IR : First, could you please introduce yourself to our visitors ?
Tout d'abord, pourriez-vous vous présenter aux visiteurs de ce site ?

KL : I am Krishna Luchoomun. Born 18th December 1962 in Mauritius. After my secondary education I won a scholarship to study art in the ex-USSR from 1983 to 1990.
Presently I am teaching at the MGI School of fine arts in Mauritius.

Je suis Krishna Luchoomun. Je suis né à l'île Maurice le 18 décembre 1962. Au terme de mes études secondaires, j'ai obtenu une bourse pour étudier les arts dans l'ex-URSS, de 1983 à 1990.
Actuellement, je suis enseignant à l'Ecole des Beaux-Arts MGI, à l'île Maurice.


IR : You have been an art student in USSR for about six years. How did you learn there ? What was (what is ?) the influence of these years on your works ?
Vous avez donc fait des études artistiques en URSS pendant environ six ans. Comment ces études se sont-elles passées là-bas ? Quelle a été (quelle est ?) l'influence de ces années sur vos oeuvres ?

KL : Life was quite hard in the USSR, but interesting. First of all I did not know the language and I was immersed in a culture completely unfamiliar to me. Coming from such a small island as Mauritius and landing in such a big country, I found myself lost. But in a short time I started to get use to soviet life and made many friends. Contrary to the severe image projected at that time about soviet people I found them very nice and friendly. I spent my first year in Azerbaidjan (one of the 15 republics of the USSR) to study Russian language, after that I was accepted at the most prestigious art academy of the USSR - the Repin Academy of Fine Arts which is in Leningrad now known as St. Petersbourg. The Repin Academy was a school of strict realism where no experimental or abstract art was permitted. We had to learn all the different techniques of the old masters. Besides practical studio work we had to study history of art, philosophy, aesthetics and also a subject called scientific communism ! At the beginning I found it very difficult to adapt at the academy since my knowledge of art was not as good compared to the soviet students who had art training already from their childhood. However with the help of my Professors and my classmates I was able to cope with that situation and within a few months time there was noticeable progress in my work.
My stay in the USSR gave me the possibility to travel through Europe, thus I discovered not only the art and culture of the USSR but also that of many European countries.
All what I experienced in those seven years, now form part of my artistic vocabulary. I am convinced that subconsciously these experiences should exert some kind of influence on my work.

La vie était très dure en URSS, mais intéressante. Tout d'abord, je ne connaissais pas la langue et je me retrouvais immergé dans une culture qui ne m'était absolument pas familière. Venant d'une île aussi petite que Maurice pour atterrir dans un si vaste pays, je me suis senti perdu. Mais en peu de temps j'ai commencé à m'habituer à la vie soviétique, et je me suis fait beaucoup d'amis. Contrairement à l'image sévère que l'on donnait à l'époque du peuple soviétique, j'ai trouvé les gens très agréables et amicaux. J'ai passé ma première année en Azerbaïdjan (l'une des quinze républiques de l'URSS) pour étudier la langue russe et, après cette étape, j'ai été accepté dans la plus prestigieuse école artistique d'URSS : l'Académie des Beaux-Arts Repin, qui se situe à Léningrad (ville maintenant connue sous le nom de Saint-Pétersbourg). L'Académie Repin était une école où l'on pratiquait le strict réalisme, et où l'on ne tolérait pas l'art abstrait ou expérimental. Il fallait étudier toutes les diverses techniques des maîtres anciens. Outre les séances de pratique en atelier, il fallait aussi étudier l'histoire de l'art, la philosophie, l'esthétique, ainsi qu'une matière appelée communisme scientifique ! Au début, j'ai trouvé très difficile de m'adapter à cette école : ma connaissance de l'art n'était pas aussi bonne que celle des étudiants soviétiques qui avaient une formation artistique depuis l'enfance. Quoi qu'il en soit, avec l'aide de mes professeurs et de mes camarades j'ai réussi à faire face à la situation et en quelque mois on a pu constater des progrès sensibles dans mes travaux.
Mon séjour en URSS m'a donné la possibilité de voyager à travers l'Europe, et c'est ainsi que j'ai découvert non seulement l'art et la culture de l'URSS, mais aussi ceux de nombreux pays européens.
Les expériences que j'ai accumulées au cours de ces sept années font partie à présent de mon vocabulaire artistique. J'ai la conviction que, inconsciemment, ces expériences exercent de quelque manière leur influence sur mes oeuvres.

IR : Technically, how do you work ? What are the main characteristics of your art ?
Techniquement, comment travaillez-vous ? Quelles sont les principales caractéristiques de votre art ?

KL : I specialized in painting but also learned the techniques of sculpture and printmaking. What I learned at the academy serves me as a solid base. Nowadays I work mainly in oil and acrylics but not in a realistic style. My work has developed in the area of tension between figurative and abstract art and is subject to continual change. Among the themes in my paintings, installations and videos are the discursive association and external influences that give rise to my works. These include other artists and my immediate environment along with my own personal experiences. I am much more interested with forms, colors and texture. My early paintings revolved around the theme of nature, carving of animal forms into the surface of the painting is characteristic of those works. Recently I started to use photomontage technique. I paint over the photos with acrylic, and here again forms of animals, which are carved in my paintings, also appear on the collages. These animals are to me my own little gods !

Je me suis spécialisé dans la peinture, mais j'ai aussi appris les techniques de la sculpture et de la gravure. Ce que j'ai appris à l'Académie m'est une base utile et solide. A présent je travaille principalement avec la peinture à l'huile et l'acrylique, mais pas dans un style réaliste. Mon oeuvre s'est développée dans cette zone de tension entre les arts figuratif et abstrait, et elle est sujette à de continuels changements. Parmi les thèmes de mes peintures, de mes installations et de mes vidéos, il y a le montage de sujets sans rapport et des influences externes qui donnent naissance à mes oeuvres. Cela inclut d'autres artistes et mon environnement immédiat, en même temps que mes propres expériences personnelles. Je m'intéresse surtout aux formes, aux couleurs et aux textures. Mes premiers tableaux tournaient autour du thème de la nature ; les formes animales en relief à la surface du tableau caractérisent mes oeuvres de cette époque. Récemment, j'ai commencé à utiliser la technique du photo-montage. Je peins à l'acrylique sur les photos, et encore une fois des formes d'animaux apparaissent sur ces collages, gravées en relief. Pour moi, ces animaux sont mes petites divinités personnelles.


IR : According to what can be seen on several of your paintings, your Indian roots are a source of inspiration for you. Could you tell us more about this ?
D'après ce que l'on voit sur plusieurs de vos tableaux, vos racines indiennes constituent pour vous une source d'inspiration. Pourriez-vous nous en dire davantage à ce sujet ?

KL : I guess that you are referring to the "Icons" series. Consciously I don't think that my Indian roots have anything to do with my work. As an artist I am very fascinated by Indian, Chinese and Egyptian cultures but I believe that even if I were of African or European origin this fascination would have been the same. I just want to point out that my interest in Indian culture does not lie in the fact that I have Indian roots. I am proud of my Indian roots but I firmly believe that my roots does not stop in India, it goes further, up to the Big Bang !
However the series of "Icons" was born out of my fascination for images of gods that I have always seen around me in my house and everywhere on the Island since my childhood. At that time I was not even conscious that these images were related to religion. Only their beauty, their forms and colors attracted
me. Then came the soviet years where I discovered the icons. I went numb in front of the first icon I saw in a Moscow museum, and that without being conscious of its religious origin.
In the "Icons" series I played with images of gods mixed with forms and colors borrowed from icons.

Je suppose que vous faites allusion à la série des "Icônes". A vrai dire, je ne crois pas qu'il y ait de rapport entre mes racines indiennes et mes travaux. En tant qu'artiste, je suis profondément fasciné par les cultures indienne, chinoise et égyptienne, mais je suis convaincu que même si mes origines étaient africaines ou européennes, cette fascination aurait été la même. Je veux simplement faire remarquer par là que l'intérêt que je porte à la culture indienne n'est pas dû au fait que j'ai des racines indiennes. Je suis fier de ces racines, mais j'ai la ferme conviction que mes racines ne s'arrêtent pas en Inde : elles remontent beaucoup plus loin, jusqu'au Big Bang !
Cependant ma série des "Icônes" est née de ma fascination pour les images de dieux que j'ai toujours vues autour de moi, chez moi et partout dans l'île, depuis mon enfance. A cette époque, je n'avais même pas conscience du lien entre ces images et la religion. Ce qui m'attirait, c'était leur beauté, leurs formes et leurs couleurs. Puis sont venues mes années en URSS, au cours desquelles j'ai découvert les icônes. Je suis resté figé devant la première icône que j'ai vue dans un musée de Moscou, et cela sans avoir conscience de son origine religieuse.
Dans la série des "Icônes", j'ai joué avec les images des dieux mêlées avec des formes et des couleurs empruntées aux icônes.


IR : Are Hindu religion and spirituality important for you as an artist ?
La religion et la spiritualité hindoues sont-elles importantes pour vous en tant qu'artiste ?

KL : My religion is Art !
Though I come from a traditional Hindu family, personally I do not practice any religion. However out of interest for the ritual part of religious ceremonies, very often I attend the different religious festivals celebrated on the island. Not religion but spirituality is a big support to my creations.

Ma religion, c'est l'Art !
Bien que je vienne d'une famille hindoue traditionnelle, en ce qui me concerne personnellement je ne pratique aucune religion. Cependant, par intérêt pour l'aspect rituel des cérémonies religieuses, j'assiste très souvent aux diverses fêtes religieuses célébrées dans l'île. La spiritualité - non pas la religion - constitue une ressource majeure pour mes créations.


IR : As a Mauritian citizen and artist, do you consider yourself as the result of a mixed culture (Asian, African, European) ?
En tant que Mauricien et artiste, vous considérez-vous comme le résultat d'une culture métisse (asiatique, africaine, européenne) ?

KL : On this multicultural island we are all the result of a mixed culture though many do not recognize this fact.
Culturally speaking I consider myself a Mauritian. Besides having appropriated Asian, African and European customs, my deep attachment to this land, its mountains, its trees, and its landscape make of me a Mauritian.

Sur cette île multi-culturelle, nous sommes tous les résultats d'une culture métisse, bien que nombreux soient ceux qui ne reconnaissent pas cette réalité.
Culturellement parlant, je me considère comme mauricien. Au-delà des coutumes asiatiques, africaines et européennes que j'ai faites miennes, mon attachement à cette terre, ses montagnes, ses arbres et ses paysages fait de moi un Mauricien.


IR : What is the most important for you when painting : any ideology or philosophy to express, a spiritual way to reach something (what ?), just creating something beautiful, or what else ?
Quelle est la chose la plus importante pour vous quand vous peignez : une idéologie ou une philosophie à exprimer, une voie spirituelle pour atteindre quelque chose (et quoi ?), simplement le fait de créer quelque chose de beau, ou quoi d'autre ?

KL : I create out of passion.
Though I explore ecological or religious themes, my primary concerns are not fettered by ideology or philosophy. My works are about my dreams and my
personal experiences. Using my visual and emotional consciousness I aim at creating images that would convey positive vibrations.

Je crée par passion.
Bien que j'explore les thèmes de la nature ou de la religion, mes intérêts fondamentaux ne sont pas bornés par l'idéologie ou la philosophie. Mes oeuvres se réfèrent à mes rêves et mes expériences personnelles. Je recours à ma conscience visuelle et émotionnelle dans le but de créer des images susceptibles de transmettre des vibrations positives.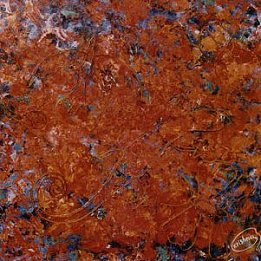 Flamboyant
IR : Which artists do you admire ? Which one do you consider as your masters ?
Quels sont les artistes que vous admirez ? Lesquels considérez-vous comme vos maîtres ?

KL : The list is very long. I admire many of the old masters and many of modern periods as well. Some of my favorites are Pierro della Francesca, El Greco, Kandinsky, Mark Rothko, Anish Kapoor, Gunter Uecker and Richard Long.
I think they are all my masters, since I firmly believe that art feeds art, it is from art that we make art.

La liste serait très longue. J'admire de nombreux maîtres de l'époque ancienne aussi bien que de l'époque moderne. Pour citer quelques uns de mes préférés : Pierro della Francesca, Le Greco, Kandinsky, Mark Rothko, Anish Kapoor, Gunter Uecker et Richard Long.
Je crois que ce sont tous mes maîtres, puisque je suis fermement persuadé que l'art nourrit l'art ; c'est à partir de l'art que nous faisons de l'art.


IR : Now could you tell us what you think about the artistic field and situation in Mauritius ?
Pourriez-vous nous dire à présent ce que vous pensez de la scène artistique et de sa situation à l'île Maurice ?

KL : Mauritius is a multicultural country where very easily people mix-up culture with religion. The country is full of cultural centers but till now we don't have an Art Museum. However there is an attempt from the authorities to encourage young artists and art in general. The organization of the 1st Triennial in 2001 and the setting up of a National Art Gallery have been positive signs. Though we don't have proper infrastructures for artists on the island, the art scene in Mauritius is quite dynamic.

L'île Maurice est un pays multi-culturel où les gens confondent très facilement culture et religion. Le pays est plein de centres culturels, mais jusqu'à présent nous n'avons pas le moindre musée consacré à l'art. Pourtant les autorités tentent d'encourager les jeunes artistes et l'art en général. L'organisation de la 1ère Triennale en 2001 et la fondation d'une Galerie Nationale des Arts ont été des signes positifs. Même si nous ne disposons pas d'infrastructures adaptées aux artistes sur l'île, la scène artistique à Maurice est très dynamique.


IR : Have you any contacts with artists in Reunion ? What is your opinion about painting in Reunion ?
Avez-vous des contacts avec des artistes à la Réunion ? Quelle est votre opinion sur la peinture à la Réunion ?

KL : In 1995 I participated in a group exhibition in Salazie and in 1999 I lead a workshop on printmaking at Andre Beton's studio. William Zitte is a personal friend and we have been together in about three different group exhibitions. I have also exhibited with artists such as Henri Maillot, Freddy Duries, Thierry Fontaine, Yoyo Gonthier, Esther Hoareau and Laurent Zitte. I am acquainted to Mr.Yves Bernard of DRAC and Mrs. Caroline de Fondaumiere of the Artotheque.
Just as in Mauritius, in Reunion also you have a diversity of styles. It is pleasant to note that contemporary art has a strong base on Reunion. However with the presence of institutions such as the DRAC, FRAC, Artotheque and the Leon Dierx museum to my opinion the Reunion art scene should have been much more vibrant.

En 1995 j'ai participé à une exposition collective qui se tenait à Salazie, et en 1999 j'ai animé un atelier de gravure au studio André Béton. William Zitte est un ami personnel et nous avons participé ensemble à quelque trois expositions collectives. J'ai aussi exposé aux côtés d'artistes tels que Henri Maillot, Freddy Duries, Thierry Fontaine, Yoyo Gonthier, Esther Hoareau et Laurent Zitte. Je connais bien M. Yves Bernard, de la DRAC, et Mme Caroline de Fondaumière de l'Artothèque.
Tout comme à l'île Maurice, à la Réunion aussi vous avez une variété de styles. Il est agréable de constater que l'art contemporain est solidement implanté à la Réunion. Cependant, avec la présence d'institutions telles que la DRAC, la FRAC, l'Artothèque et le musée Léon Dierx, il me semble que la scène artistique réunionnaise aurait dû être beaucoup plus dynamique.


IR : What are your projects for the coming months and coming years ? Did you plan any exhibition in Reunion Island ?
Quels sont vos projets pour les mois et les années à venir ? Avez-vous prévu d'exposer à la Réunion ?

KL : I am the president of an association of contemporary artists named "pARTage" and we are organizing an international artists workshop in Mauritius this July.15 artists from different countries would be invited to live and work with their Mauritian counterparts for a period of two weeks and at the end of the workshop the art works produced will be exhibited for the public. For sure an artist from Reunion will be invited.
On a more personal level I have an exhibition in Reunion at the Charles Gounod Gallery in November and after that another exhibition in Paris in December.

Je suis le président d'une association d'artistes contemporains appelée "pARTage", et nous sommes en train d'organiser un atelier international d'artistes à Maurice pour le mois de juillet. Quinze artistes de divers pays devraient être invités à partager la vie et le travail de leurs homologues mauriciens pendant une période de deux semaines, et à la fin de l'atelier les oeuvres produites seront exposées pour le public. Il est évident qu'un artiste de la Réunion sera invité.
Sur un plan plus personnel, j'ai prévu une exposition à la Réunion, à la Galerie Charles Gounod, en novembre, puis une autre exposition à Paris en décembre.


Le site de l'association pARTage